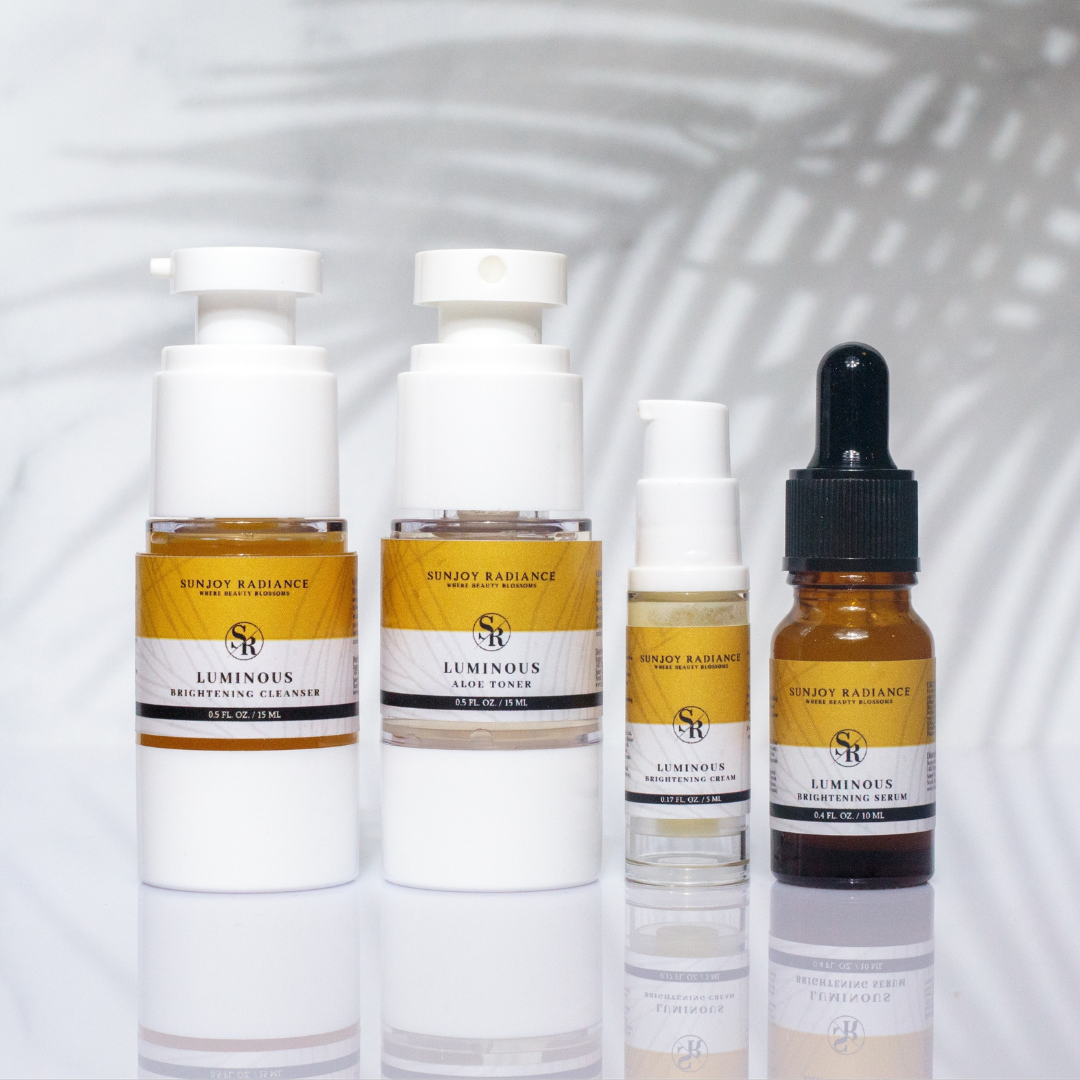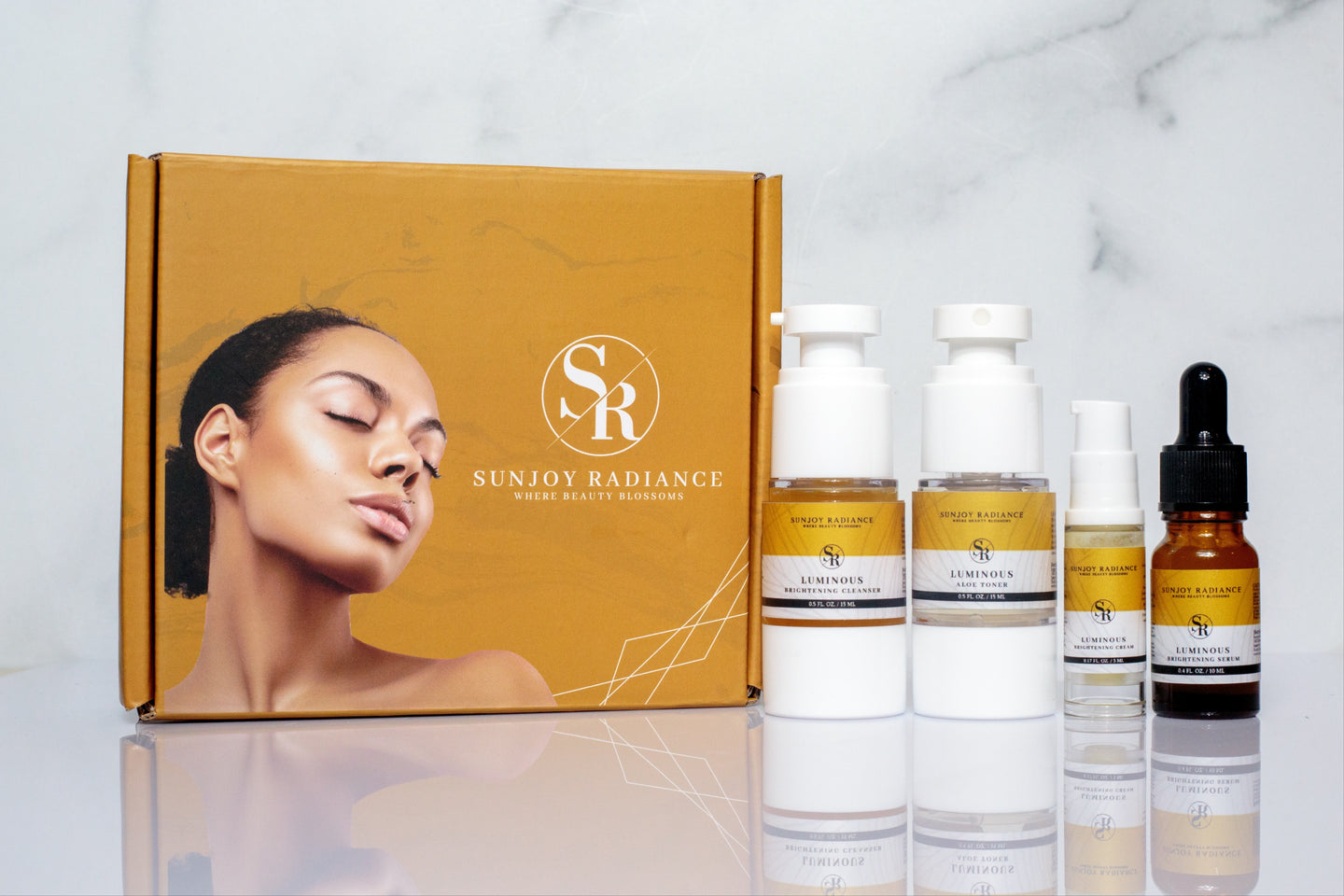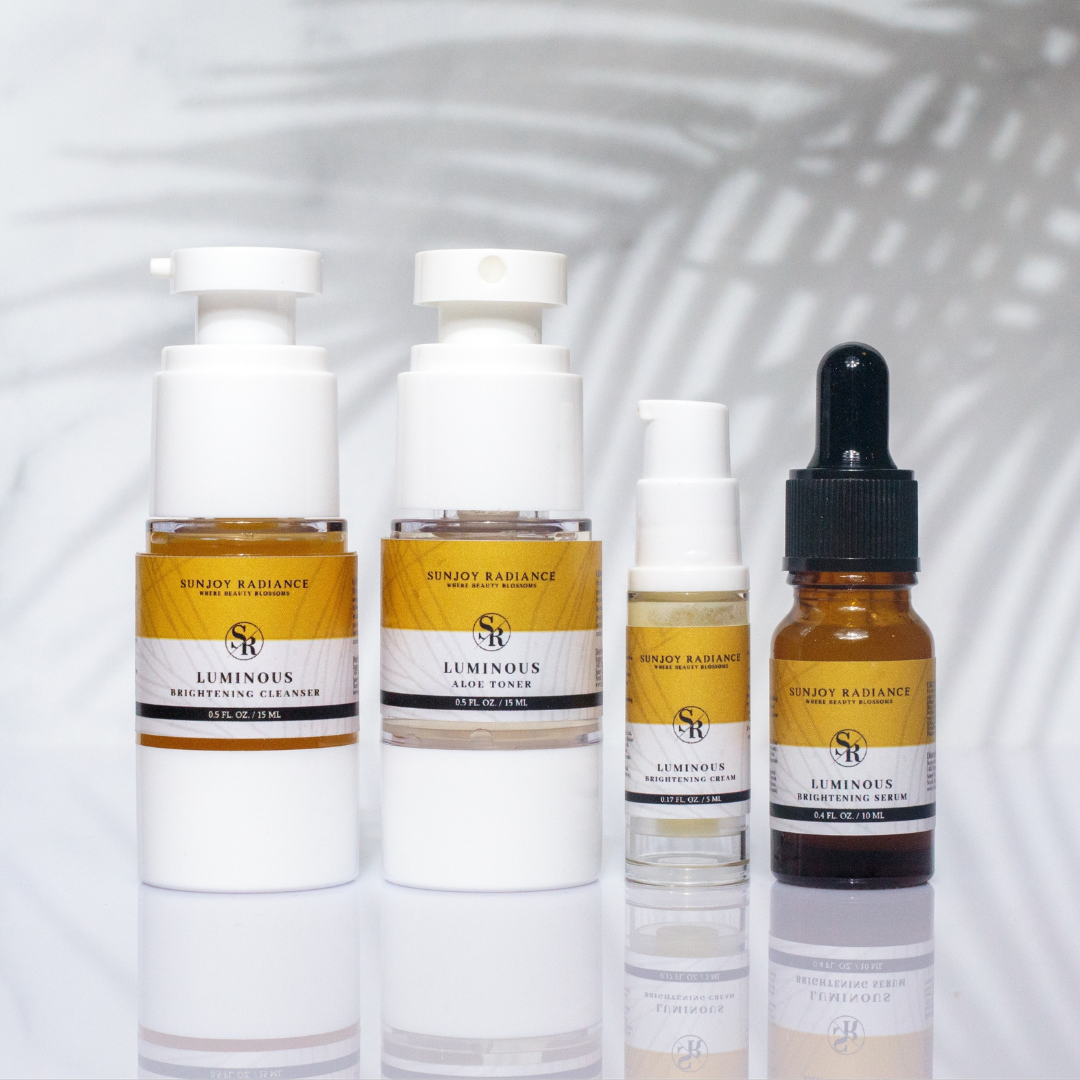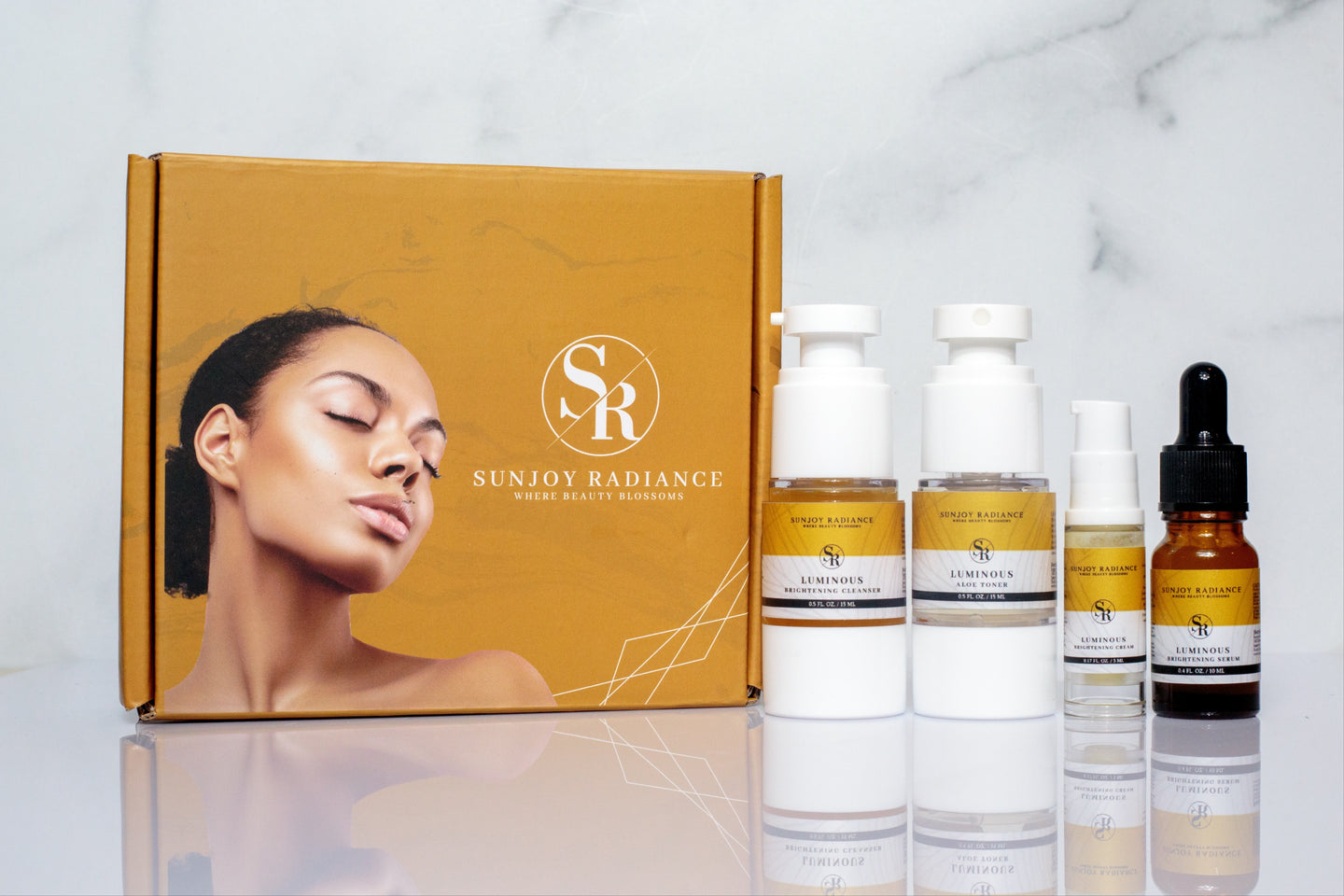 Luminous Brightening Skincare Trial Kit
Regular price
Sale price
$44.99 USD
Unit price
per
YOUR BEST SKIN IN 4 SIMPLE STEPS.
CLEANSE. TONE. PROTECT. HYDRATE.
PERFECT FOR ALL SKIN TYPES.
Coming through with the starter skincare set. A 4-step routine for healthy-looking, even, plump skin: This 4-step system works better together. Brightens, target pores, diminish dark spots, hydrates, and protects the skin.
☑️

Specially Formulated for Dark Spots
☑️Contains dark-spot correcting ingredients such as Kojic Acid, Turmeric, Licorice Root, Papaya, and natural ingredients like Calendula or Aloe Vera to achieve a supple and smooth texture and even skin tone.
☑️

Gently exfoliates to promote healthy, spot-free skin while also reducing the appearance of hyperpigmentation and fine lines.
☑️Takes the guesswork out of skincare by analyzing what worked for people with dark spots.
Skin Type: Normal, Dry, Combination, and Oily
Includes ($39.99 value):
1 x 0.5 oz | 15 mL Luminous Brightening Cleanser

1 x 0.5 oz | 15 mL Luminous Aloe Toner

1 x 0.4 oz | 10 mL Luminous Brightening Serum

1 x 0.17 oz | 5 mL Luminous Brightening Cream
**Please note sample kits not eligible for coupons / discounts**
Luminous Brightening Cleanser: Gentle but effective. Non-stripping. Luminous Brightening Cleanser gently and effectively cleanses + removes makeup leaving skin clean, comfortable, and never stripped of moisture.
Luminous Aloe Toner:  Luminous Aloe Toner helps condition and prepare for proper moisture absorption when you spritz it over the skin. It helps out the look of pores and smooths the skin's surface.
Luminous Brightening Serum: Made with Kojic Acid and Niacinamide, this Luminous Brightening Serum helps minimize the look of dark spots over time. Packed with ingredients that deliver dramatic results for hyperpigmentation, it evens out the look of uneven skin tone and reduces the appearance of acne scarring and dark spots.
Luminous Brightening Cream: Made with Kojic Acid, Licorice Root, and Papaya, this Luminous Brightening Cream helps minimize the look of dark spots over time. This rich cream moisturizer instantly hydrates, reducing the look of fine lines and wrinkles. In just one week, pores and dark spots look better, too. After use, skin feels hydrated with a soft, matte finish.
FULL INGREDIENTS LIST:

Luminous Brightening Cleanser: Aloe Barbadensis (Organic Aloe Vera) Juice, Decyl Glucoside, Cocamidopropyl Betaine, Butyrospermum Parkiii Shea Butter, Kosher Vegetable Glycerin, Kojic Acid, Curcuma Longa (Organic Turmeric), Melaleuca alternifoli (Tea Tree Essential) Oil, Citrus Medica(Lemon Essential) Oil, Ethylhexylglycerin, Phenoxyethanol (Eco-certified, gentle, paraben free preservative)

Luminous Aloe Toner: Organic Aloe Vera Juice, Kosher Vegetable Glycerin, Calendula Extract, White Willow Extract, Ethylhexylglycrin,  Phenoxyethanol (Eco-certified Paraben Free Preservative).

Luminous Brightening Serum: Organic aloe Barbadensis (Aloe Vera)  Juice, Guar Hydroxypropyltrimonium Chloride (Guar Gum) , Kosher Vegetable Glycerin, Kojic Acid, Carica Papaya (Papaya Seed) Oil, Simmondsia Chinensis (Jojoba) Seed Oil,  Ethehexylglycerin, Phenoxyethanol (Eco-certified, gentle, paraben free preservative), Tocopherol (d'Alpha Vitamin E) Oil, Niacinamide (Vitamin B3), Oryza Sativa (Rice Bran) Oil, Citrus medica limonum (Lemon) Peel Oil Lemon Essential Oil.

Luminous Brightening Cream: Organic Aloe Vera Juice, Emulsifying Wax NF, Stearic Acid, Shea Butter, Sodium Lactate, Kosher Vegetable Glycerin, Kojic Acid, Papaya Extract, Licorice Root Extract  Ethelhexylglycerin, Phenoxyethanol (Eco-certified, gentle, paraben free preservative), d'Alpha Vitamin E.
HOW TO USE:

1.Apply cleanser (dime size) directly onto wet skin and massage for 30-60 seconds.
2.Rinse thoroughly with water until clean. 
3.Rinse off and pat dry.

4. After cleansing, spritz the Luminous Aloe Toner 3-5 times. Gently pat into skin.

5. After cleansing and toning the skin, apply 4-5 drops of the Luminous Brightening Serum to your fingertips and gently pat and massage onto face and neck twice a day. Shake well before use.
6. Take a dime size amount of the Luminous Brightening Cream and massage generously over the face and neck using upward circular motions.

7. Follow with any of your favorite SPF 30+ Sunscreen.
BEST FOR:

Beauties who are struggling with dark spots, dullness and uneven complexion.
Share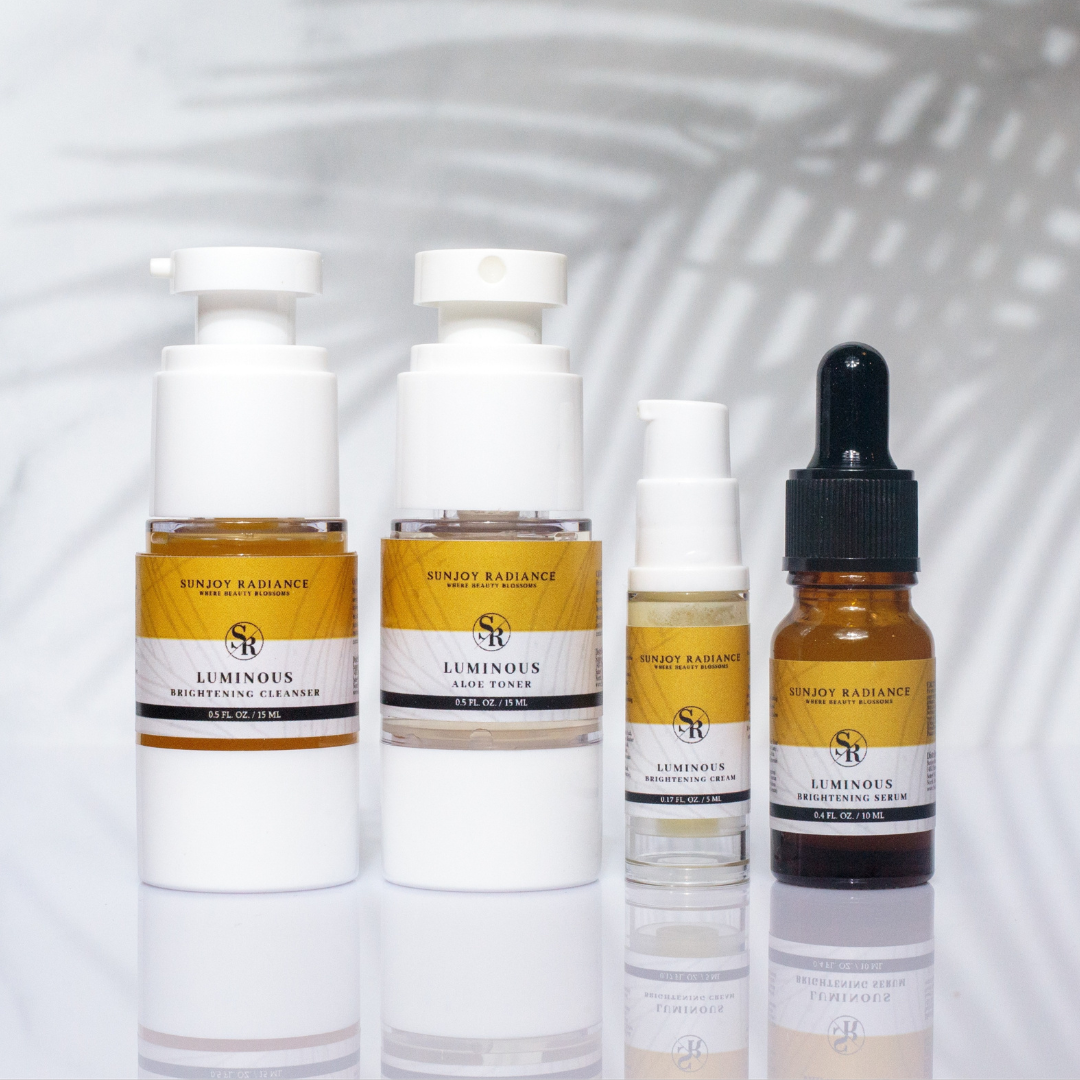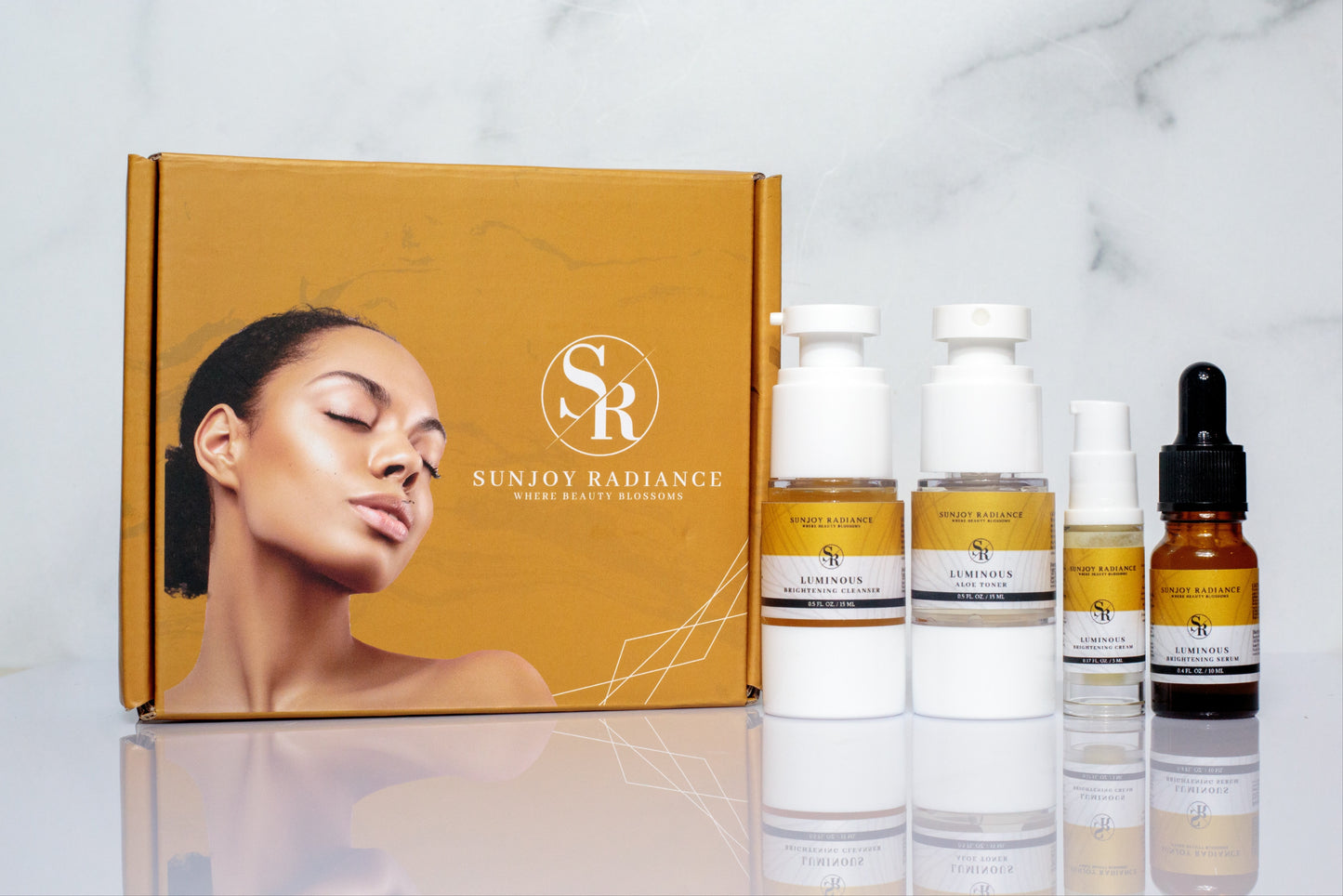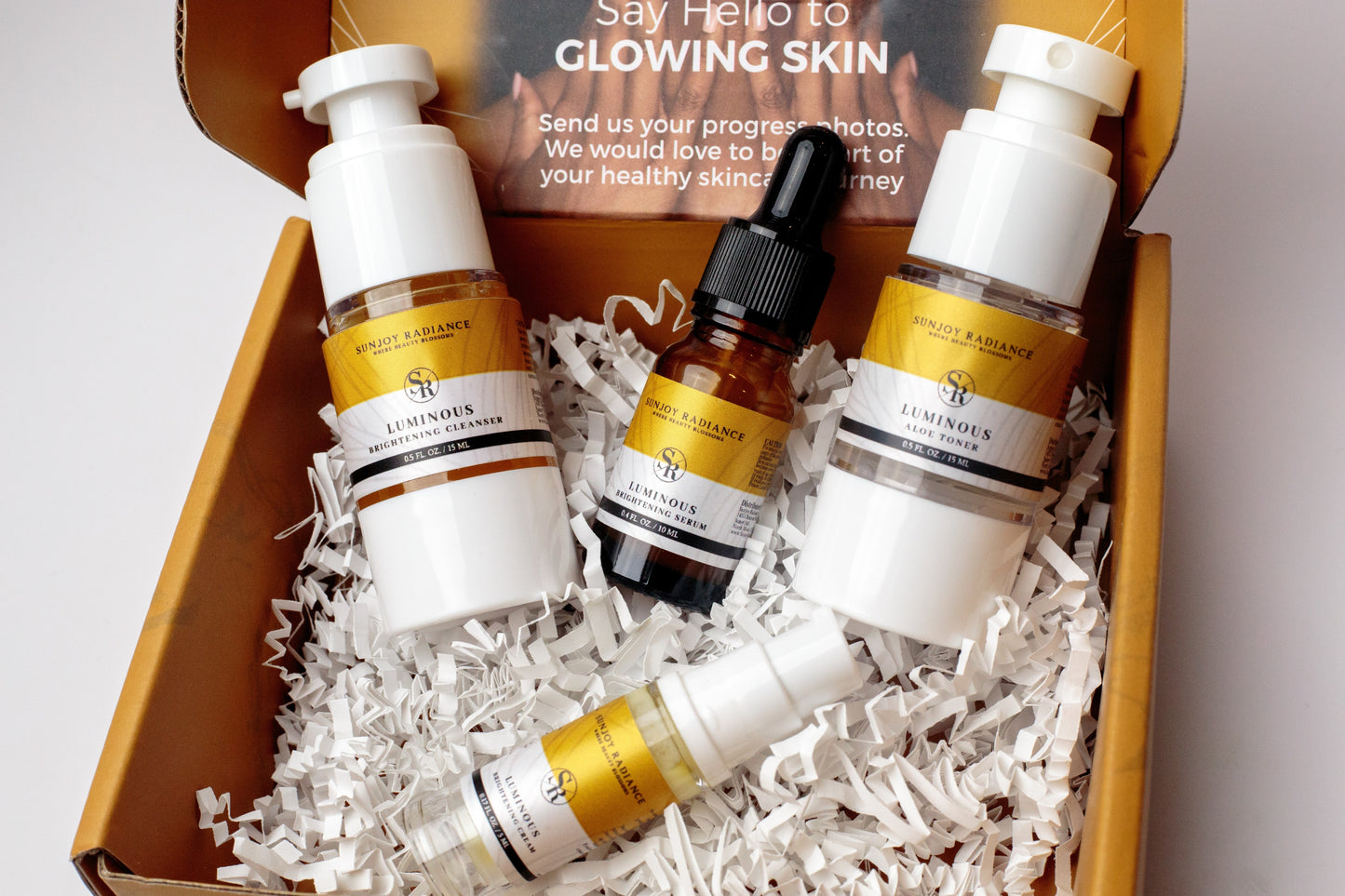 HIGHLIGHTED INGREDIENTS
Aloe vera

Aloe vera acts as a protective layer of the skin and helps replenish its moisture. Aloe vera contains numerous antioxidants that include beta-carotene, vitamin C and E that can help improve the skin's natural firmness and further keep it hydrated.

Calendula

The nourishing benefits of calendula help to plump the surface of your skin to give you tighter, more supple skin. In the long term, both the anti-inflammatory and antioxidant properties help to protect your skin's collagen and elastin supply.

White Willow

Derived from the bark of the willow tree, Willow Bark Extract has been used for centuries to soothe irritated skin. Containing salicin (from which salicylic acid is derived) this versatile ingredient is both anti-inflammatory and antibacterial, clearing pores and alleviating acne and irritation. It also helps to keep skin looking firm and youthful.

Turmeric

Turmeric contains antioxidants and anti-inflammatory components. These characteristics may provide glow and luster to the skin. Turmeric may also revive your skin by bringing out its natural glow.

Kojic Acid

Kojic acid's primary use and benefit is to lighten visible sun damage, age spots, or scars. This can result in an anti-aging effect on the skin. Kojic acid also contains some antimicrobial properties.

Licorice Root

Licorice Root helps to reverse hyperpigmentation, malasma and brightens the skin. In addition, to helping brighten skin already affected by sun damage, licorice contains glabridin, which helps to stop discoloration in its tracks during and immediately after sun exposure. Licorice can speed up the healing process from acne and the glycyrrhizin found in licorice can reduce redness, irritation and swelling. Lastly, Licorice helps to regenerate our skin's collagen and elastin supply, both of which are necessary to keep our skin elastic, smooth, and baby-soft.

Papaya

Papaya has vitamins that promote healthy skin. Papaya also exfoliate your skin, treat acne, and reduce hyperpigmentation.

Niacinamide

Niacinamide improves skin's hydration by preventing evaporation of moisture from the skin into the environment. It's also a natural anti-inflammatory ingredient, so it's great for calming irritated skin but also good for people with sensitive skin.